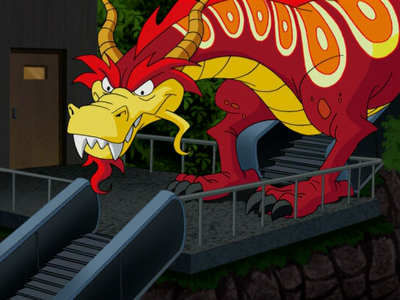 The Chinese Dragon is another dragon villain the Scooby-Doo and the gang encountered in Hong Kong. It robbed and sabotaged many stores and kidnapped Mei Ling. Later the gang rebuilt Duck Guy into a giant robot to fight the dragon but it had a disadvantage against the beast due to its outage of water. Luckily Shaggy stops it by sending it flying into the sky on a rocket and it came crashing down hard. This dragon is voiced by Paul St. Peter.
Ad blocker interference detected!
Wikia is a free-to-use site that makes money from advertising. We have a modified experience for viewers using ad blockers

Wikia is not accessible if you've made further modifications. Remove the custom ad blocker rule(s) and the page will load as expected.